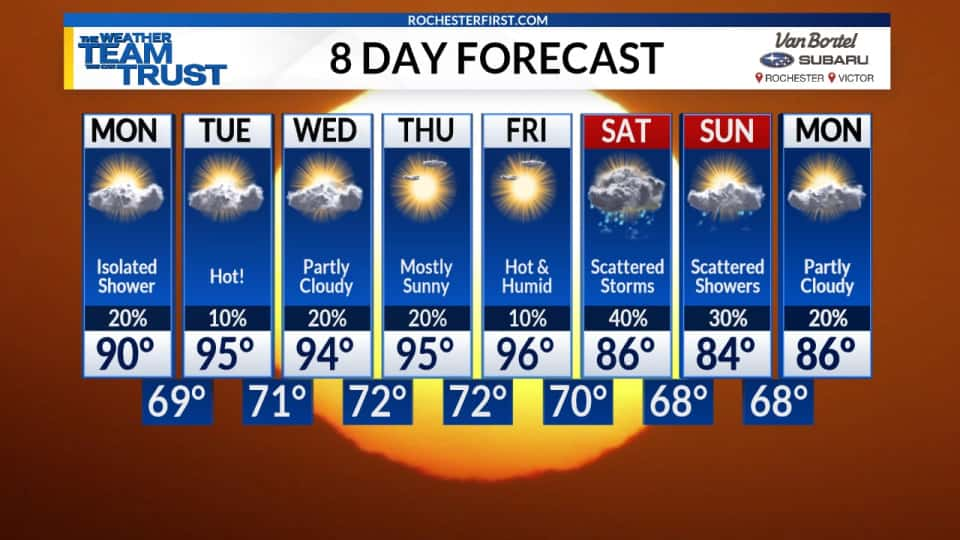 Find a pool, lake, or stay inside if you don't prefer the heat because things are only getting hotter from here.
A several day heat wave is looking more and more likely here in Rochester this week, but what exactly is it? Check out these heat wave facts and tips: pic.twitter.com/6Xj2IXglsG

— Christine Gregory (@WxChristineG) July 6, 2020
Monday will feature better chances for more of us to hit 90 as we crank up the heat just a bit more to start the new week. Dew points will slowly rise as we continue through the week, which will only make it more difficult to be outside. Highs are expected to remain at or above 90 all through Friday with a possible record breaker on Tuesday.
One of our best chances for some raindrops will be Monday as a few isolated showers are expected to form across the southern tier, with a small chance one of them finds their way into the viewing area , but will likely stay south of Rochester. Elsewhere will continue to be hot and dry into the end of the week with a soaring sun and gardens in desperate need of some water.
Our hottest day of the week looks to be Friday as the heat makes its last stand before more significant showers return to hopefully relieve us from the dreadful heat.
If you love the heat, this week is for you! Remember to stay safe and take precautions to prevent heat exhaustion, and check up on those who may be more sensitive to such prolonged, hot conditions.
~Meteorologist Christine Gregory