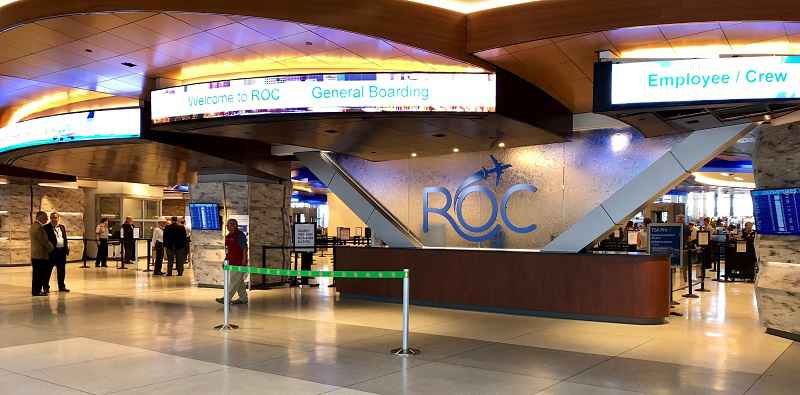 Rochester, NY (WHAM) – Travelers are hitting the road and taking to the skies so they can be reunited with loved ones they haven't seen in months during the pandemic.
Toni Sangermano of Greece is one of them. She was flying out of the Greater Rochester International Airport Thursday to see her son. Despite the new travel restriction in place for nine states, she said her visit is worth it.
"It's worth it to see my son," she said. "I haven't seen him since Christmas. That's too long for me."
Travelers from certain states who come to New York, New Jersey, or Connecticut are now required to quarantine for 14 days. New York Gov. Andrew Cuomo announced that state inspectors will help with enforcement by looking at flight lists and randomly calling passengers on flights from restricted states. If those passengers aren't quarantined, they could face a fine ranging from $2,000 to $10,000.
Sangermano knows when she returns, she'll have to quarantine for 14 days. That weighed heavily on her mind before getting on the plane.
"Should I go? Should I not go? Should I stay home? Guess what? I have to see my boy, so I'm going," she said.
Andy Moore, the director of the Greater Rochester International Airport, says passengers who have layovers in one of those nine states will be exempt from that protocol.
"If you are flying from Denver to Rochester and had a layover in Charlotte for a few hours, you are not required to quarantine," he said.
Moore says, at this point, airports will not be in charge of enforcing quarantines. Instead, they'll have signage up to help remind travelers.
"It's just education," he says, "letting those travelers know what's going on based on the information we get from the Department of Health."
Denise Banas is another traveler directly impacted. She traveled from Texas to Rochester Thursday morning. She says she'll obey the mandate and quarantine with a family member.
"I haven't seen my family, and then to quarantine again and not see my family would be heartbreaking to spend all this time and money and then I'm stuck," she said
Travelers by car, train, or bus must also follow the new protocols.