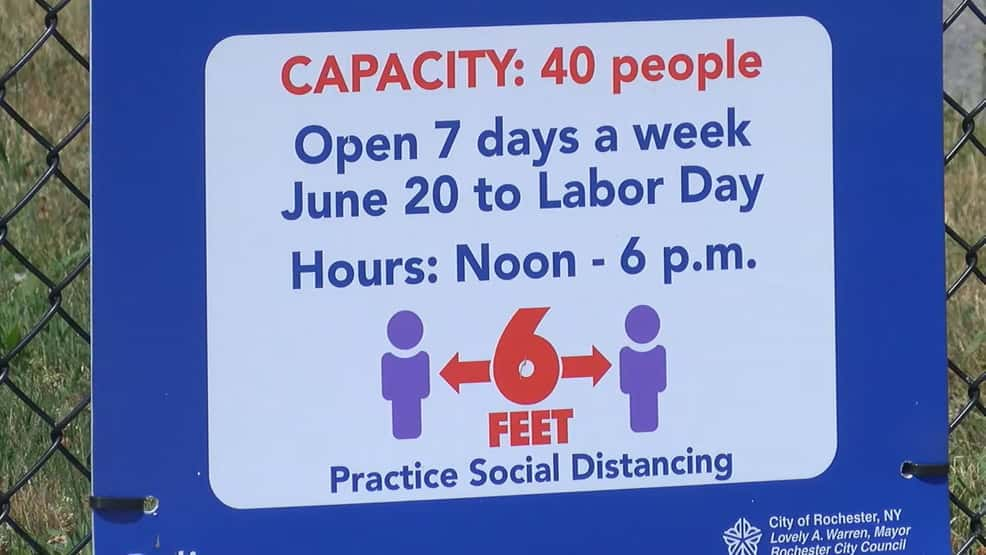 Monday, July 6th, 2020 — ROCHESTER, N.Y. – As temperatures warm up, Rochester is activating its Cool Sweep Emergency Operations, opening spray parks and community pools across the city.
Kara Antosh brought her two toddlers to the spray park behind the David F. Gantt Center on Monday. She says they can't get enough of the water.
"We brought my son yesterday and he really liked it. He said today was a hot one so we came back to the water park," said Antosh.
Pools are also open. At Genesee Valley Park Pool, staff members will take your temperature before coming in and everyone must wear a mask when not in the pool. At half capacity, 200 people are allowed to be in the swimming area at the Genesse Valley Park Pool.
"The water is a safe place. Covid does not live in the water so that's your safest place. But there's obviously things around there that you have to protect yourself against," said John Picone, manager of Athletics and Aquatics for the City of Rochester.
Spray parks are open from noon to 6pm. Below is a list of the spray parks open with capacity in parenthesis:
Carter Street R-Center, 500 Carter St. (40)
Tyshaun Cauldwell Center for Hope, 524 Campbell St. (20)
Edgerton R-Center, 41 Backus St. (50)
Humboldt R-Center, 1045 Atlantic Ave. (40)
David F. Gantt R-Center, 700 North St. (50)
Thomas P. Ryan R-Center, 530 Webster Ave. (50)
Roxie Sinkler R-Center, 75 Grover St. (20)
Martin Luther King Jr. Park Spray Feature (playground area), 353 Court St. (10)
Pools open:
Genesee Valley Park Pool, 131 Elmwood Ave., noon to 7 p.m., Monday through Sunday.
Adams Street R-Center, 85 Adams St., noon to 6:30 p.m., Monday through Friday
Trenton and Pamela Jackson R-Center, 485 N. Clinton Ave., noon to 6:30 p.m.. Monday through Friday