Attorney Samantha Parisi
Saturday -- 09:00 AM - 10:00 AM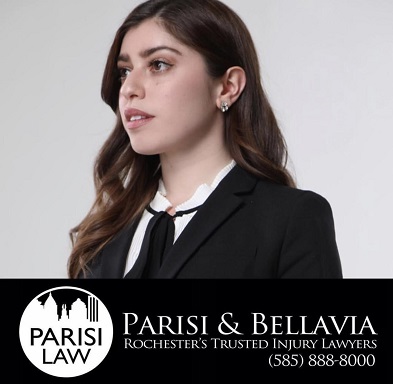 Samantha Parisi is a personal injury lawyer at Parisi & Bellavia Law Firm, where she focuses on litigating car accident and slip and fall cases. Parisi & Bellavia is Rochester's trusted personal injury law firm.
A native of Rochester, Attorney Samantha Parisi received her undergraduate degree from the University of Michigan in Ann Arbor, Michigan. Upon graduation, Attorney Parisi attended Interamerican Law School in San Juan, Puerto Rico, where she graduated with high honors and was the captain of the Law School's trial team.
Attorney Parisi is passionate about supporting the arts in the Rochester community and currently serves on the board of directors of the Rochester City Ballet. Additionally, she serves as the Diversity Chair for the Greater Rochester Association for Women Attorneys (GRAWA). Attorney Parisi is the 2020 recipient of the Daily Record's Excellence in Law award. Attorney Parisi also hosts a legal talk show on 97.5 La Mega. ("La Hora Legal" Saturdays 9am-10am)
Attorney Parisi is admitted to practice in New York State.